SPECIALIST OF POLYSTYRENE SHUTTERING PANEL SETTING BLOCK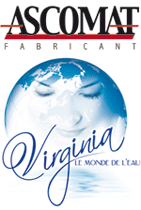 ASCOMAT Company was established in 1991 and appears as the specialist of polystyrene shuttering panel setting block.

It is managed by Mr. Franck GEORGE. We have a permanent stock of 500 swimming pools and are proud to guarantee very short delivery schedules or approximately 5 days even in high-season.

Since 12 years, the ASCOMAT Company has been developing the Piscines Virginia Network. It brings together experienced swimming pool manufacturers in France and abroad who work together to offer high-quality swimming pools made of isothermal reinforced concrete.


A COMPLETE RANGE OF SWIMMING POOL MATERIAL

EUROBLOCS are construction modules designed by the Research Department of ASCOMAT and manufactured in the EPS industry by injection and moulding. We have a large range of products consisting of 25 different modules that help construct swimming pools of all sizes, heights and forms that one may desire.



Most of our swimming pools are marketed in the form of a complete kit of the basic material. Of course, several articles for treatment and making your experience more comfortable (robots, showers, covers, counter-current swimming), too, are available.