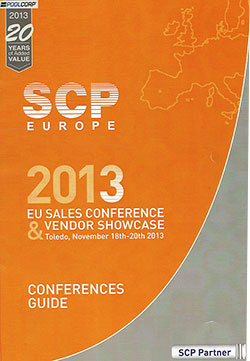 SCP Europe recently organized the second edition of its "Sales Conference & Vendors Showcase" in Toledo, Spain, from the 18th to 20th November 2013. An occasion to also celebrate the 20th anniversary of POOLCORP and the 10th of its subsidiary in Spain – a subsidiary that recently equipped itself with new and modern equipment, demonstrating the commitment of the company and its capacity to invest in the long term.

During 3 days, in a magnificent setting, all the SCP teams from Europe, the world's leading manufacturers in the Pool and Wellness market, and SCP partner brands joined in the festivities at the Hilton hotel in Toledo.

During these very studious days, alternating between visits to the stands, conferences and technical training, albeit in a festive spirit, more than 130 decision makers and the principal SCP heads from 7 countries and 13 sales offices in Europe, were able to meet their privileged suppliers during high-quality discussions.

Manufacturer-partners of SCP, both long-standing and recent arrivals, representing a total of 40 suppliers, were able to present their new products for 2014 and all their product lines, exchange views on the market situation and their innovations, give details of their pre-season offers, promote their services, etc.
On the large stage where activities and burlesque shows created by SCP heads and their teams, a live band, and distribution of prizes and trophies were organized, Manny Perez de la Mesa, the CEO of POOLCORP and Sylvia Monfort, Executive Director of SCP Europe, made a point of reaffirming SCP's values to all its partners present: investment in human capital and training to achieve excellence, great respect and exceptional fidelity towards its partners - whether they are customers or suppliers, a culture of service and team-spirit, the capacity for investment and innovation, the unfailing support of, and to, its vendors, financial soundness and confidence and a desire to invest on the part of its shareholders, particularly in Europe.

On Wednesday, after welcoming over a 100 VIP guests from SCP SPAIN, specially invited for the occasion to join this private SCP tradeshow and speak directly to the most important pool leaders (Hayward, Pentair, Maytronics, etc.) these SCP days culminated in a Gala Dinner and a splendid fireworks display attended by over 300 delighted guests.

Hôtel Hilton - Tolède

The next day, in shuttles specially chartered for the occasion, over 100 participants made a trip to the new SCP Spain installations in Humanes for a guided tour and an inaugural buffet.

Extracts of thanks received from partners

who were invited:

« We like to thank you again for the last 3 days and this great opportunity talking with your impressive EU team. Again, it has been for both parts a huge benefit in terms of positive exchanges, ideas, and plans. And as you said when we met during the branch visit: up to all of us to make it happen! And for sure we will, since we expect to be as strong as USA is, regarding the PENTAIR/SCP partnership. » Brice Nicolas - Sales Director Europe - Pentair Aquatic Systems

Sylvia Monfort, Executive Director of SCP Europe

« We found over the past 3 days it had been a great opportunity to meet a number of your staff members to discuss the various products available from Waterco. Both myself and Jo were very encouraged from the positive feedback that we both received from your sales teams and feel that there are various opportunities for Waterco working with SCP in 2014. » Tony Fisher - Managing Director Waterco

« It was a great experience, learned a lot and I can't wait until the next one. I see a lot of potential in your team and SCP as a company. »
Raymond KORS - Aquafinesse

Manny PEREZ DE LA MESA - CEO POOLCORP

« Whilst I have this opportunity, thank you for a great conference, showcase, pen gift, SCP shirts and schedule of entertainment. My thanks to you will be to put it all to good use! » Geoff Nunn - Branch Sales Manager - SCP UK

« I can truly say that it is fun to work with such excellent and dedicated people and teams from SCP - and I mean all of them. » Juri Katz - Europe Territory Manager - MAYTRONICS

Daniel BOS Executive Director of SCP France,

emceeing the SCP France team

The award winner

Manny PEREZ DE LA MESA CEO POOLCORP

and Sylvia MONFORT

POOLCORP's 20th anniversary

The Best Employees of the Year, from left to right:

Carlos BAGHANA, SCP Portugal, Nanette CALLENS,

SCP France, Marco PROVANEY, SCP Italy,

with Manny PEREZ DE LA MESA

The Gala Dinner ended with

a splendid fireworks display

[email protected]

http://www.scpeurope.com
,
http://www.swimmingpool.eu/
,
http://www.acti-chemical.com/

A new Water treatment Product Manager at SCP Europe
- ( News )

2018 Beachcomber UK dealers Awards evening
- ( News )

SCP : Meetings, discussions, presentations in Lyon...
- ( News )

Zenit 60, pool cleaner distributed exclusively by SCP Europe
- ( New products )

The dolphin commercial pool cleaner's performance
- ( New products )

New davey's low salt pool sanitiser
- ( New products )