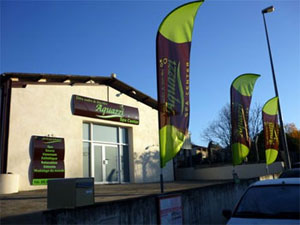 Founded in 2007 AQUAZZI anticipated a niche area in the process of growing very quickly: the quest for wellness.
The company quickly responded to this demand by developing a carefully thought-out range of spas, high-performance indoor and outdoor spas.
Today, it enjoys the role of a leading company satisfying the requirements of different segments of the spa market, both private and public, and has chosen to provide industry players with a showcase centre also used to deliver training courses concerning different technologies.
The 1,000 m² centre is used to display spas, saunas, Turkish baths, chalet-spas, Zen Hut chalets equipped with either a spa, sauna or massage area, etc. This vast and comprehensive range meets the very varied needs and provides a series of different finishes enabling products to be customised in a way customers really appreciate.
Professionals are able there to test products (in the 400 m² Aquazzi spa Center) and also to relax at the same time. The centre also features an 11 m long Aquazzi swimming spa!
The Management Team is in the showroom ready to advise the 70 independent professionals distributing the brand, helping them develop their sales arguments. An after-sales service help desk is also available to ensure spare parts are sent within 48 hours.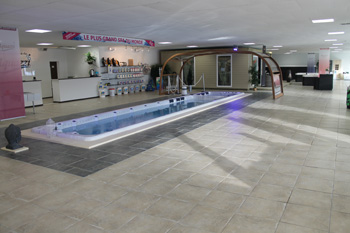 Swim spa 11 m long
| | |
| --- | --- |
| Zen Hut chalets | |