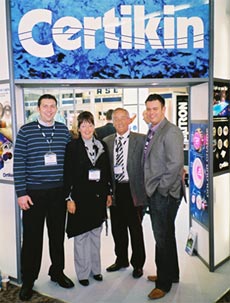 Monmouthshire-based Oyster Pools and Leisure carried off the Peter Geekie award for retail excellence at the recent annual SPATA (Swimming Pool and Allied Trades Association) awards, presented during the Spatex trade show in Brighton in February.
Sponsored by pool and spa distributor Certikin International in memory of its founder, Peter Geekie, the award was judged by experienced retail consultant Ellen Watts.
Commenting on the entries,
Ellen
said:
"I have nothing but praise for the high standard and attention to detail in the entry submissions. Oyster Pools stood out because of its beautifully landscaped site and immaculate showroom, coupled with a genuine appreciation of what it takes to retain customer confidence and loyalty. Their visible commitment to their staff and customers and the industry as a whole is exemplary, and they are worthy indeed to be held up as a beacon of retail excellence."
Oyster Pools' director Barry McCabe said
:
"We are delighted to have won this industry recognition. Credit goes to the whole workforce for outstanding customer service and the high standards we set ourselves."
Barry (second right) is pictured at the show with wife Paula, stepson Gareth Coote (right) and service manager Luke Morgan (left).