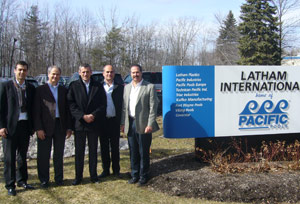 Last March, the Latham International group - which owns the brands Pacific Pools, Fort Wayne Pools, Kafko, Triac, Coverstar and Viking Pools – was visited at its head office in Latham (close to Albany, state of New York) by Sirs Jean Louis Albouy and Benoît Rivière, respectively General Director of SCP France and Permalife Program Manager.
During this trip, they had the possibility of visiting the factory where the Permalife polymer panels are injected and one of the 15 factories of liners established in North America.
This manufacturing unit can
produce 450 liners per day
and makes it possible to
receive an order less than 24h after having placed it, even in high season.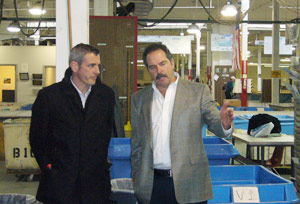 This visit was
part of the Permalife program implementation with the swimming pool masters of SCP France
, directed by Benoit Rivière.
They thus could discover the whole of the products offered under the Latham International label and the
innovations which will soon be launched.

Upper left picture caption:
From left to right, Benoît Rivière, Blair Russel (New Vice President and Sales Manager Canada and Europe Latham Int'l), Jean-Louis Albouy, Lionel Couty (Europe Manager Latham Int'l) and Mark Laven (President & CEO Latham International).
Opposite, Jean-Louis Albouy and Mark Laven >