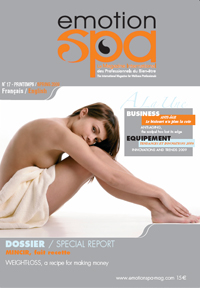 EMOTION SPA Magazine N°13 Spring edition
, bilingual French/English, has been issued. 112 pages devoted to the international actuality of Spa and the Wellbeing.
This issue contents:

MEETINGS
10 Delphine PARESYS, Frédéric LUCEA, Comfort Zone
20 Stéphanie GUINARD, Occitane International Spa Development Directeur
26 Laurent BESSON, G.M Clair Azur
28 Bertrand VAILLANT, G.M Hydrojet Wellsystem France
30 Benoît CREUS, CEO Verre & Quartz
85 Valérie VARENNE, Carita International Marketing Director

BUSINESS and EXHIBITIONS
33 After the Rain, hotel Spa specialist
34 Anti-aging, the scalpel has lost its edge
74 Equipment Trends and Innovations 2009
102 Cosmoprof Spa Bologne
104 European Spa Summit & Exhibition
106 Thermalies 2009


CONCEPTS & DESIGN
06 The Fontaine of Jouvence
44 MIP Woman, women's superintendants
45 Génération Tao
90 Sensory Design, staging of your Spa

TO DISCOVER
09 Algologie, the sea as a source of beauty
47 Phytomer, the sea pearl treatment
73 Imoove,enter into the era of fitness therapy
89 Kanopé, organic products and treatments for men

SPECIAL REPORT:
WEIGHT-LOSS, A RECIPE FOR MAKING MONEY!

The next edition, Summer 2009, will be issued at the end of June.
Advertising deadline: May 22

> EMOTION SPA Magazine allows you to communicate in France and export markets for a competitive tariff.
> EMOTION SPA Magazine ensures you an optimum audience thanks to its triple diffusion: Nominative press sorting to the Spas decision makers distribution + Massive diffusion on main international trade shows + individually-named press contact mailing
> EMOTION SPA Magazine, it is also a quality of design, of contents, a regularity of publication, all essential factors for the valorisation of your image and your products.
Our magazine is placed in the top 10 in the PRO WELLNESS PRESS sector out of 350 titles referenced internationally. (Source: Amazon.com January 2007).
To contact us to appear in the next issue: [email protected]
To get some more information about EMOTION SPA Magazine, discover the Website:
www.emotionspa-mag.com
To subscribe directly online and to discover all the numbers, CLICK HERE